Rupp to Race Centrowitz in Indoor Mile on Saturday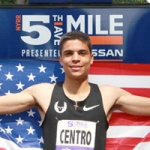 January 10, 2013
By Peter Gambaccini, Runner"s World
A match-up in the Mile between Galen Rupp and Matthew Centrowitz at Saturday's UW Indoor Preview at Dempsey Indoor in Seattle is more intriguing and potentially competitive than it might at first seem. Yes, Centrowitz is the 2011 world championships 1500 meter bronze medalist and fourth-place finisher in the London Olympic 1500, and his personal best for the distance is 3:31.96.
But Rupp, in a rare venture into the distance, clocked 3:34.75 for 1500 in 2012, which made him the fifth fastest American of the year. And then there's that scorching kick he flashed in the Olympic 10,000 final, the one that lifted him past international superstars and gave him an Olympic silver medal. In a 1500, perhaps, that kick might be even more fearsome.
The Mile in Seattle, on an always fast 307 meter track, will also include 2009 world championships competitor Dorian Ulrey and 2012 U.S. Olympic Trials 800 meter finalist Mark Wieczorek. As Paul Merca reports in his blog, the race will be rabbited by Matt Scherer, who is charged with going through 800 meters in 1:55. The Dempsey Indoor Mile record of 3:54.52 by Chris Solinsky could be in jeopardy.
Continue reading at: runnersworld.com