Sam Penzenstadler Increased Intensity, Dropped Times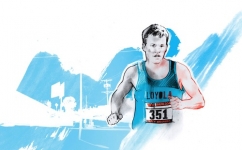 March 12, 2015
"There was no settling on hard days and when I bumped up that intensity, my speed increased and that brought out the potential I had."
By Daniel P. Smith, Running Times
As a prep runner in Oshkosh, Wisconsin, Sam Penzenstadler set PRs of 1:57 for the 800m and 4:18 for the 1600m. His times were strong but not spectacular.
Today, however, Penzenstadler, who competes for Loyola University Chicago, is among the nation's top middle-distance athletes and a two-time NCAA All-American, including a third-place finish at the 2014 NCAA Outdoor Track & Field Championships. His 1500m PR of 3:39.7 is the equivalent of a 3:55.8 1600m performance, 22 seconds faster than his high school PR.
Though outsiders might attribute Penzenstadler's rise to the inevitable jump in mileage that often accompanies a runner's matriculation into the collegiate ranks, not so for Penzenstadler. From high school to college, he continued logging 70-mile weeks; the biggest shift came in the intensity of workouts and a focus on running faster as workouts progressed.
Continue reading at: www.runningtimes.com