Second is not an Option for Jakob Ingebrigtsen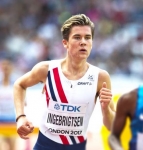 September 26, 2017
"It took a couple of days to fully realize what I had accomplished (running a sub-4 minute Mile)… It was a huge accomplishment for me."
By Niall Hugh, Fast Running
Jakob Ingebrigtsen, the teenage sensation, says he wants to become the "best runner in the world," and if that's not his goal, why run?
The younger brother of European 1500m champions Henrik & Filip Ingebrigtsen, celebrated his 17th birthday this month and having already accomplished more than many athletes could hope for, he now wants to be the best and will do everything he can to achieve it.
This season, while still aged 16, the Norwegian star became the youngest ever to run the Mile under the coveted 4 minute mark. He broke the 41-year-old European U20 3000m steeplechase record, before winning two European U20 titles, then competed at the World Championships, and wrapped things up with a 5000m age group world record.
Having achieved so much at a young age an expectancy exists for even greater accomplishments in his senior years, both from himself and those watching on, but with this comes added pressure, especially when your older brothers have won multiple major medals.
"I want to be the best runner in the world and I will do everything to reach that goal. If that's not my goal, then I don't think all the sacrifices are worth it to finish second," he says. "There is always pressure, but I probably put most of it on myself. I always set very high targets because I want to achieve so much in my career."
Continue reading at: fastrunning.com