Shannon Rowbury's Final Olympic Games: 1500 or 5000?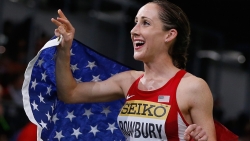 June 03, 2020
"I really love the 1500 but if I can be fit enough to sustain the rounds of a 5K, then you know, I think I could also be a contender there..."
By Sieg Lindstrom, Track & Field News
The 1500 may no longer be her primary event—although that decision's not etched in stone—but any discussion of the U.S. players in the metric Mile has to include Shannon Rowbury, she of 11 U.S. Rankings appearances since her debut there in 2006: 10 in a row 2008–17 and 6 #1s ('08-09, '10, '12, '15-16).
Then there's the Duke alum's 1500 record at the majors: a bronze at the '09 World Champs (plus a 7th in '15), and in Olympic competition 7th in '08 plus 4ths the last two times around in London (after others' doping DQs) and Rio.
Now 35, Rowbury has been ensconced for the last three years in her native San Francisco after 4 seasons training with the now-disbanded Nike Oregon Project in Portland. Were she to aim for a 1500 spot on Team USA's Tokyo Olympic team she would be the only mother among the group currently projecting as contenders. She and husband Pablo Solares welcomed daughter Sienna in June of '18.
Motherhood has "added a lot of joy and perspective to my life," Rowbury says, "but it definitely has complicated it as well. So I feel like I'm doing a good job. Totally excluding having a child, training just as a 35-year-old athlete has to look different than training as a 23-year-old athlete. It's just your body has certain strengths. Like I'm better aerobically now than I was before, but I don't recover as quickly. And so I've already had to adjust training in some ways because of just where I am in my training life. But you know, I feel like all of those challenges can get more exaggerated when you have a little child to care for. So it's just taken a little bit more flexibility and the ability to adapt."
The not at all surprising shifts in athletic aptitude Rowbury describes surely point in the direction of the 5000, by no means a new part of her racing repertoire. Her PR, 14:38.92, was an American record when she sped to it in September of 2016, and Shelby Houlihan (14:34.45) is the only American to have surpassed it yet. Rowbury has been U.S.-Ranked 4 times at 5K besides the #1 she rated in '16, and she busted out a pair of sub-15:00 clockings at the '17 World Championships in London—14:57.55 heat and 14:59.92 for 9th in the final—to rank #1 again.
Last year, though stymied in the spring by a sacral stress fracture as she rushed back from maternity, Rowbury gutted out a 6th-place finish at the USATF Champs and a 15:05.99 seasonal best in Berlin 5 weeks later.
Currently mentored remotely by former Oregon Project coach Pete Julian, Rowbury is mulling an event choice calculus for both this year and next that has been further complicated by the COVID-19 pandemic. With complication in this case comes more options and that's not necessarily a bad thing.
"The plan for this summer would probably be to do more 5Ks," she says. "But to be good at the 5K, I need to be good at the 15. I was thinking I would try to run 15s leading up to the Olympic Trials so I'd have had the standard in both and have the ability to make that last-minute decision as to where my best odds would lie.
"But with the qualifying window being closed, there's sort of more flexibility in terms of what we do this summer. I have my 5K standard, which is great and really relieving, but you can't get a standard in anything else until December. So I've done a lot of base-training work. I skipped the indoor season thinking that the Olympics would be this summer, and because I wanted to put in a lot of steady weeks of higher-mileage, longer volume workouts, with the understanding that if a 5K was going to be an event that I did, I needed more strength to get through the rounds."
Continue reading at: trackandfieldnews.com
NOTE: The seventh in a series of TFN event-focus articles on the U.S. women's 1500, an event on a hot streak and one in which we expect to see fierce-fierce racing when the competitive trek toward the Tokyo Olympics resumes.