Simpson commits to Camel City Elite 3000m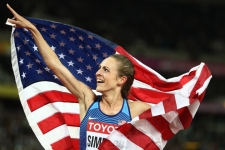 November 22, 2019
By Eddie Wooten, News & Record
Olympic and World Championship multi-medalist Jenny Simpson, one of the top middle-distance runners in U.S. history, has committed to run the 3000 meters at the upcoming Camel City Elite indoor meet at JDL Fast Track in Winston-Salem on Saturday, Feb. 8.
The meet now has commitments from two medalists from the 2016 Rio de Janeiro Olympics: Simpson won 1500 meter bronze medal, while UNCG alumnus Paul Chelimo, who won silver in the 5000 meters and earned a bronze at the 2017 World Championships, is the other.
Simpson captured gold in the 1500 at the World Championships in Daegu, South Korea, in 2011, becoming the first American since Mary Decker Slaney in 1983 to win that global title. She also captured silver at Worlds in Moscow 2013 and in London 2017 and also competed in the 2008 Olympics in Beijing and the 2012 Summer Games in London.
The 8-time 5th Avenue Mile champion won four NCAA championships at the University of Colorado: Three in the 3000m steeplechase and one in the 3000m indoors.
She clocked her personal record in the outdoor 3000 meters – 8:29.58 – in Belgium in 2014, and only Slaney (8:25.83 in 1985) has run faster among American women.
Simpson, 33, and her husband, Jason, live in Boulder, Colo.
More on the 2020 Camel City Elite indoor meet HERE.