Simpson ready to rise to the occasion at IAAF World Championships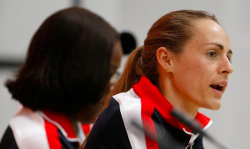 August 21, 2015
Simpson was beaming with confidence at the Team USA press conference; prelims are set to get underway on Saturday, August 22 local time.
From IAAF
Jenny Simpson is approaching the IAAF World Championships, Beijing 2015 as one of the medal contenders in the 1500m. With the first round in this event set to get underway on the first day of the competition, Saturday 22 August, Simpson was beaming with confidence at the USA team press conference held at the Bird's Nest stadium on Friday (21).
Having switched events from the 3000m steeplechase to the 1500m in 2010, Simpson won the World Championships on her first try at her new event, just one year later. In Moscow, two years ago, she finished a close second behind Sweden's Abeba Aregawi.
Simpson's track record in 2015 is impressive too: a North American indoor best in the two Miles (9:18.35), two IAAF Diamond League wins and a national title. However, her last race before Beijing, the IAAF Diamond League meeting in Monaco, left Simpson with mixed feelings of optimism and frustration.
Continue reading at: www.iaaf.org