Simpson supreme again, Jenkins surprises at New Balance 5th Avenue Mile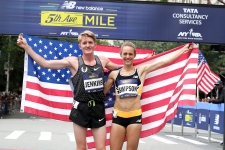 September 03, 2016
36th edition produces three women sub-4:20, two men sub-3:50; record 17 women sub-4:30 and record tying 17 men sub-4
From NYRR
NEW YORK – American Jenny Simpson became the first five-time winner – man or woman – in event history and rising star Eric Jenkins shocked the field with his top finish on the men's side at the New Balance 5th Avenue Mile on Saturday, September 3.
Simpson, 31, fresh off an Olympic bronze medal in the women's 1500 meters last month, roared to victory in 4:18.3, the third fastest-women's time in the 36-year history of the event. The win was Simpson's fourth consecutive and event record fifth overall on Manhattan's famous thoroughfare.
"It's unbelievable," Simpson said of her historic win. "I care so much about all my races. At the end of the season and a transatlantic flight, I had to care a lot about getting this done. I'm really tired, but I'm so proud."
Great Britain's 23-year-old Laura Muir was second in 4:18.4, just two days after becoming the third British woman to win a Diamond League title, while American Heather Kampf finished third in 4:19.7 to crack the podium for the first time in her seven appearances at the event.
Jenkins, 24, a last-minute addition to the race for the American contingent, inched past Olympic 1500 meter gold medalist and fellow American Matthew Centrowitz at the finish for a shocking win in the men's field, clocking 3:49.4 in his New Balance 5th Avenue Mile debut. Centrowitz, the event's 2012 champion, finished a hundredth of a second behind in 3:49.5, followed by American Colby Alexander, who ran a personal-best Mile time of 3:50.3.
The New Balance 5th Avenue Mile professional athlete field included 18 Olympians – 16 of whom competed in the Rio 2016 Olympic Games and five of whom have won Olympic medals.
The event was comprised of 23 races this year, including specialty heats such as the NYPD / FDNY Mile, the George Sheehan Memorial Miles for runners 60 to 69 and 70-plus, the Media Mile, and the women's and men's NYRR Road Mile Championships, featuring top local athletes. The NYRR Road Mile Championships and professional athlete races were aired live on USATF.tv.