Sir Chris Chataway, Olympian & World Record Holder, Passes Away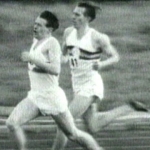 January 19, 2014
A 4-time world record holder, who inspired Roger Bannister to the first sub-4 minute Mile; also Commonwealth Games gold medalist and sub-4 minute Miler
From the BBC
Former British athlete Sir Chris Chataway has died at the age of 82.
Chataway, who broke the 5000m world record in 1954, is more famously remembered as the man who helped pace Sir Roger Bannister to breaking the 4-minute Mile barrier the same year.
He was named the first-ever BBC Sports Personality of the Year in 1954.
Chataway, who won the Commonwealth Games three miles title in the same year, was knighted for his services to the aviation industry in 1995.
Bannister described Chataway, who had been suffering from cancer for two and a half years, as "one of my best friends".
"He was gallant to the end," Bannister told BBC Sport. "Our friendship dated back over more than half a century.
"We laughed, ran and commiserated together. People will always remember him for the great runner he was but it shouldn't be forgotten that he had an extremely distinguished career off the track.
"My family and I will miss him sorely and our thoughts go out to his family and many friends who were so fond of him."
Double Olympic champion Lord Sebastian Coe added: "He was a 'Renassiance Man', and although his international career was relatively short, he packed an enormous amount in it."
Continue reading at: www.bbc.com