Sir Walter Miler finds its pace, sets records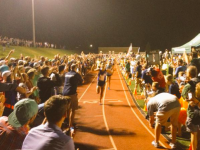 August 11, 2015
While the meet set plenty of notable stats and records, the goal to bring Raleigh into the track scene also succeeded, as a record crowd was on hand to watch the event.
From NC State
In just three years, the Sir Walter Miler has exploded onto the national track scene as well as the Raleigh community. What started as one man's quest to break the four-minute Mile has quickly evolved into a cultural experience and a nationally prominent race.
As 2,000 people surrounded Meredith College's track, eight runners achieved the original goal of the meet. Three women broke the 4:30-Mile mark and five men broke the 4:00-Mile mark in the elite races.
"It could not have gone any better. The numbers proved all the hard work that went into the meet this year," said meet organizer Sandy Roberts. "The athletes had great performances this year. We are thrilled all together with how the meet played out."
Continue reading at: gopack.com