Sonia O'Sullivan's achievements still a thing of beauty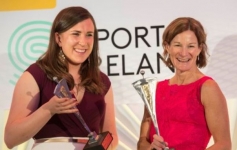 December 18, 2016
Sydney Olympic silver medalist and multi-world champion has held or holds every Irish record from 800m to the half-marathon including a 4:17 Mile
By Ian O'Riordan, Irish Times
here is a perfectly good reason why Bob Dylan did not attend the Nobel Prize awards in Stockholm last weekend. Even if only he gets it. There's always been an innate reluctance in great artists to explain their work, sometimes even acknowledge it, which is a good thing, because part of our fascination is trying to figure out what made them great to begin with.
It's the same thing with Sonia O'Sullivan, and what exactly made her so great. Seeing her on stage at the Sportswoman of the Year awards – which thankfully for us she did attend – was another reminder of that. It's one thing being recognized for your outstanding contribution to women's sport. It's something else trying to explain how you went about it – and why I've stopped trying to figure Sonia out a long time ago.
The truth is that Sonia's achievements have always been recognized, not because she's a woman but simply because her career was such a great success in itself. She helped bring Irish women's distance running to the very top of the world stage not because she wanted or needed any recognition but because she always believed she could. Even now, in her retirement, it's hard to explain that.
It's not about shyness or aloofness either. Dylan actually touched on that in his acceptance speech, beautifully delivered by the U.S. ambassador to Sweden, Azita Raji: "It's probably buried so deep that they don't even know it's there," he wrote, of the secret drive for success or recognition in all great artists, before promptly comparing himself to William Shakespeare, as you do.
Continue reading at: www.irishtimes.com