Soratos credits teammates for breakthrough season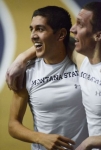 February 23, 2015
Montana State Bobcat leads NCAA indoor Mile list with 3:55.27
Michael Appelgate, Bozeman Daily Chronicle Sports Writer
It's not uncommon to see Cristian Soratos yelling in excitement after a successful race.
He crossed the finish line Friday evening at Worthington Arena and immediately turned around to look at his Montana State teammate, Matthew Tex. The duo led the 800 meters from start to finish at the Bobcat Open, and Soratos was trying to pull Tex along for a national qualifying time.
When they crossed the line, both knew it would be close. So close that they hugged each other, thinking the goal was accomplished. It wasn't long after that coaches told them Tex had come up just short.
Nevertheless, Soratos' spirits weren't stifled as he again paced another teammate in the next event, the 3000. This was a meet for Soratos to help fellow Bobcats after running a 3-minute, 55.27-second Mile at the University of Washington on Valentine's Day — the best collegiate time in the country and #6 U.S. to-date.
Continue reading at: www.bozemandailychronicle.com