Soratos navigates tumultuous pro year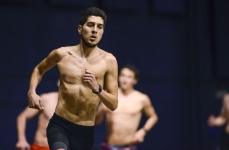 February 18, 2017
"I'm definitely more comfortable and I'm more confident in races and my ability, how they are run and how I need to run it."
By Michael Appelgate, Bozeman Daily Chronicle
Living in picturesque Big Bear Lake, California and descending the San Bernardino Mountains paints an exciting picture for a young professional runner.
Big Bear Track Club enticed Cristian Soratos to leave his trusted Montana State training ground last March. The team attracts national attention with its unique approach to practices. Athletes live at 7,000 feet above sea level and strenuous workouts take place an hour and a half west in Los Angeles.
It all seemed like a perfect fit for the former Bobcats great, who holds outdoor records in the Mile and 1500 meters and once was considered one of the country's most exciting athletes.
This was to be a happy homecoming for the Salinas native. This was supposed to elevate his training, career and ambitions.
"It's funny," Soratos said Tuesday, "the grass isn't always greener on the other side."
Continue reading at: www.bozemandailychronicle.com