Souleiman will double at Beijing in 800m and 1500m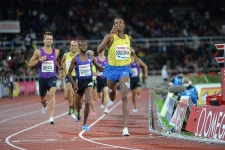 August 02, 2015
"I have a good chance in the 1500m, but I will double up in the 800 metres because this year in Beijing there is a gap, one day resting after the 800 has finished."
By Mike Rowbottom, IAAF
Ayanleh Souleiman presented a jubilant figure on the long, rain swept night of athletics in Stockholm's 1912 Olympic stadium on Thursday as he celebrated his overwhelming 1500m victory with an exuberant display of shadow boxing for the benefit of his tracking TV cameraman, all the while with a trademark wide smile.
On the eve of the last IAAF Diamond League meeting before the IAAF World Championships, Beijing 2015 get underway in three weeks' time, this affable multi-talented 22-year-old runner from Djibouti – who has a 1500m best of 3:29.58 from last year's IAAF Diamond League meeting in Monaco – announced brightly that he was looking for a fast time in the Swedish capital after the relative disappointment of finishing third in the historic Emsley Carr Mile in London less than a week earlier.
"In London it was a tactical race, and there was a lot of pushing. I had been training hard but I didn't feel ready. Tomorrow I will run faster. I want to do 3:28, 3:27," he said before his Stockholm outing.
Continue reading at: iaaf.org