State Street Dog Mile Winners Clock a Fast Finish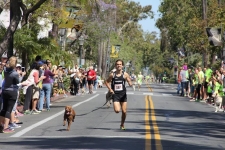 June 18, 2015
Josh Helton and his dog, Bro shattered the course record with a mind-blowing 4:15 at the State Street Mile, a BBTM Featured Event.
By Megan Hetzel, Runner's World
The final wave of the HOKA ONE ONE State Street Mile is nothing short of a spectacle. It's not because the winner of the June 7 event broke the tape in 4:15, which was the fastest time posted by a non-elite participant, and perhaps a world record. Nor is it because it takes place on the palm-tree-lined main drag through beautiful downtown Santa Barbara, California.
It's because the victor, Josh Helton, 24, earned his first-place finish alongside Bro, his 18-month-old lab and pit bull mix.
"It was pretty nerve-wracking before the race because I didn't know if Bro would be able to run that fast," said Helton of their first ever race together. "We were standing on the starting line, and he was facing the wrong direction looking at the other puppies and trying to play with them. It was a funny combination of me trying to be focused to run a fast Mile but then also having to tend to my dog."
Continue reading at: www.runnersworld.com