Stella Worters' Mile pays off for Shepherd Hill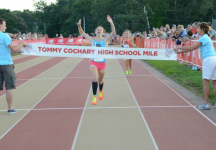 August 24, 2013
Tommy Cochary High School Mile win at Falmouth includes $2500 grant for her school
By John Conceison, Telegram & Gazette
The second time around was more than a charm for Stella Worters (right). In fact, the second time wound up with a payoff quite true to her school.
Worters, about to begin her senior year this week at Shepherd Hill Regional, makes it clear she was running the Mile on Saturday, Aug. 10 at Falmouth High for the sheer enjoyment of the event, just like she did last year the night before the Falmouth Road Race.
But with her victory in the Tommy Cochary HIgh School Mile came a $2500 grant in her name headed to Shepherd Hill, courtesy of the Tommy Cochary Memorial Scholarship Fund. She outlasted Megan Ratcliff of Concord-Carlisle by a second, crossing in 5 minutes, 14.01 seconds.
"I didn't really train for it; I was just looking to have fun," said Worters, who since stepped up her training to 50 miles a week in preparation for the Rams' preseason cross country workouts. "I'm so excited about the grant they gave us. It's so special that I can do something like this for my school."
With her coaches and school administrators, Worters is preparing a proposal to the Cochary Fund committee detailing how the money will be used. In the past, the awards have been used to benefit schools' athletic, physical education or wellness programs, even for things like new uniforms for teams.
The Falmouth Road Race eve event began in 2010 and is part of a race card that includes the boys' and girls' Cochary races, men's and women's professional Miles, and men's and women's wheelchair Miles. In the pro men's Mile this year, all 10 finishers broke the coveted 4 minute mark.
The inaugural high school races included only runners from Cape Cod. Then they started filling the eight-runner fields with the best from around the state. This year, community service was considered, as Worters was required to write a short essay before her acceptance.
"It was a lot of fun seeing the elite runners and wheelchair races this year," Worters said. "It is really turning into a terrific event."
What a beginning for what promises to be a thrilling senior year for Worters, a T&G Super Teamer in cross country and track. She's a member of the National Honor Society and is serving as a student adviser for incoming freshmen.
Continue reading at: www.telegram.com