Steve Cram at 60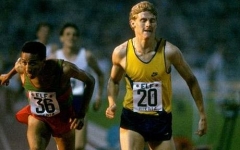 October 16, 2020
The Jarrow Arrow's landmark birthday highlights his brilliant career including his historic 1985 year when he set three world records in 19 days
By Steve Smythe, Athletics Weekly
For those who remember Steve Cram as the world's greatest teenage 1500 meter and Mile runner, it's hard getting your head around the fact that he has reached the grand old age of 60.
Now one of the world's most respected broadcasters with a growing reputation as a coach and race organiser, it's worth remembering that the Jarrow & Hebburn athlete was one of the world's greatest runners and at his best – you would probably focus more on the five-year period between 1982 and 1986 – one of Britain's greatest ever athletes.
He won most of his medals in 1982, 1983, 1984 and 1986 but it was his 1985 year when he set three world records in 19 days that still seems remarkable 35 years on.
If it wasn't for injury, it could have been even more. There were glimpses in 1988 of him being almost back at his best but a frustrating fourth place in Seoul in an injury-ravaged year proved to be his last Olympic and global final.
We have chosen 60 of his best races over the years and you can read about the top 20 below. AW magazine subscribers can find the full 60-strong list in the AW Clubhouse here.
They are not chosen purely on time – for example a 3:33 1500m PR in his development years or a title won is deemed of more significance than a 3:33 at his peak in a grand prix race with pacemakers.
#1 Mile: 1st 3:46.32 (world record)
Bislett Games, Oslo, Norway, July 27, 1985
Nine days after setting the 1500m world record, Cram took on Olympic champion Sebastian Coe and had no thoughts of the record as, after a slow third lap, he went through the bell ahead without any effort in 2:53.14.
However, he was full of running and by blasting through the last 200m in 25.39, he took over a second off Coe's world mark. Jose Luis Gonzalez followed him home in 3:47.79 with a demoralized Coe third (3:49.22). Cram also produced the fastest last lap in a Mile WR, clocked at 53.0!
It lasted as a world record for eight years and 35 years later it is still an unchallenged European & British record, and worldwide only three men have run faster.
Read Jason Henderson's article on the 'Dream Mile' here.
#2 1500m: 1st 3:29.67 (world record)
Nice, France, July 16, 1985
In one of the greatest and most notable middle-distance races, Cram made history with the first sub-3:30. He powered past 1200m in 2:49.66, yet he was almost caught in a dramatic sprint by Said Aouita's African record 3:29.71 (see photo above).
Cram's last 400m was 53.4 and it was the biggest advance in the world record since Jim Ryun 18 years earlier.
#3 1500m: gold medal 3:41.59
World Championships 1500m, Helsinki, Finland, August 14, 1983
Cram followed Said Aouita's kick from 500m out and finished strongly (52.0 last lap and 1:49.0 last 800m) to comfortably become the first ever world champion as he beat Steve Scott (3:41.87) and Aouita (3:42.02) and he also defeated a poor tactical Steve Ovett (3:42.34) for the first time.
Continue reading at: athleticsweekly.com