Steve Prefontaine was great, but Rod Dixon was better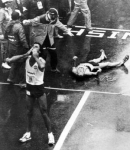 July 10, 2015
Kiwi had incredible range: Olympic 1500 bronze medalist, 3:53 Miler, two-time World Cross Country medalist, NYC Marathon champion and more!
By Christopher Kelsall, Athletics Illustrated
A collective outburst of veneration followed the all too early death of Oregon running legend Steve Prefontaine at the age of 24. His cult status flourished and continues today. Why not? He owned at least eight American track records, he was a brash frontrunner; he possessed a gun-slinging-like character trait that American's seem to relish in their heroes. He was good looking and was a quotable post-race interview. He delivered lines which later became iconic statements of bravado like, "the best pace is a suicide pace and today looks like a good day to die." Perhaps there was a little foreshadowing here?
In running circles his name stirs an archetypal sense of nostalgia reminiscent of James Dean or Marilyn Monroe.
There were two movies made about him, one produced by Disney titled "Pre" that came out in 1997 and the other by Wagner-Cruise productions. The "Cruise" is Tom Cruise. Wagner and Cruise benefited from the interest that Disney stirred with his legend and then they did one better. They spent an extra million dollars on making their version, which they called "Without Limits" and released it a year later. They employed the great Donald Sutherland to play the legendary Bill Bowerman and as usual Sutherland was excellent. Billy Crudup as Prefontaine received positive reviews. The movie continues to flitter towards a cult-like status, but it is not there just yet.
Continue reading at: athleticsillustrated.com