Steve Spence Extends His Sub-5 Mile Streak to 42 Years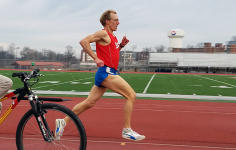 June 28, 2017
"I'd be curious to know how many of those men who lined up in the Barcelona Olympics 25 years ago can still run under 5 minutes for the Mile."
By Andy Mason, Herald-Mail Sports
Distance-running legend Steve Spence impressively added another notch on his belt Tuesday evening at North Hagerstown High School.
The 55-year-old from Shippensburg, Pa. won the Mile at the Pete Wright Memorial All-Comers Track & Field Series meet in a time of 4 minutes, 55.7 seconds to keep his remarkable streak alive.
It's the 42nd straight year that Spence has run a Mile in less than 5 minutes — believed to be the longest such streak.
"That's what Runner's World says," said Spence, who coaches track and cross country at Shippensburg University. "They did the research, and no one's disputed it, so we're assuming it is."
On Tuesday, assisted by two younger pacesetters (local standouts William Jones and Dustin Adams), Spence perfectly executed his race, running the first half in 2:29 and the second half in 2:26, with a 72-second final quarter, as he added 2017 to the list that began in 1976.
Continue reading at: heraldmailmedia.com