Stillwater's Blankenship runs down Olympic bid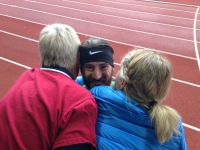 July 18, 2016
"Tried not to think about it, but really every step of the way I thought OK, Leo's going to out-lean me again… this won't be fun, but I got it."
By Stuart Groskreutz, Stillwater Gazette
A third-place finish has never felt like more of a victory for Ben Blankenship.
The 2007 Stillwater Area High School graduate finished third in the finals of the 1500 meters at the U.S. Track & Field Olympic Trials on Sunday, July 10 in Eugene, Ore., a performance that qualifies him for next month's Summer Games in Rio de Janeriro.
Only the top three finishers — and only if they met the Olympic qualifying standard — earned a spot on Team USA. Blankenship crossed the line in 3:36.18 to finish behind winner Matthew Centrowitz (3:34.09) and runner-up Robby Andrews (3:34.88).
It was a tremendous achievement for Blankenship, who entered the meet with the third fastest time among all entries, though he suggested qualifying for the Olympics isn't his ultimate goal.
"I'm definitely happy," he said. "I'm glad I got in and did my job. Really it's a prelim to do another prelim (in the Olympics). Hopefully all will go well down in Rio."
Continue reading at: http://stillwatergazette.com