Stockberger comes within seven hundredths of a sub-4 minute Mile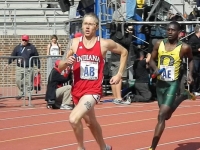 July 14, 2014
Possible further attempts at events in Pittsburgh and Ann Arbor, Mich., later this season.
By Nathan Baird, Lafayette Journal and Courier
Daniel Stockberger, striding across the finish line in a personal-best time, thought he had it.
The former McCutcheon state champion and Indiana University runner caught his breath on the track at St. Louis University High School on June 6. He estimated he'd beaten his elusive goal in the Mile by about one second.
When the times began to scroll, Stockberger looked up at the scoreboard, then walked away with little reaction.
4:00.06.
Now running with Team Indiana Elite, a Bloomington-based club for national and international-level runners, Stockberger came within seven hundredths of a second of becoming the ninth alumnus of an Indiana high school — and 421st American — to run a sub-4 minute Mile.
Continue reading at: www.jconline.com