Strava reveals global best Mile efforts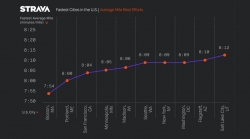 June 07, 2017
The Strava Mile campaign is about bringing runners from all over the world together and encouraging them to run their best Miles together.
By Gary Roethenbaugh, triathalonbusiness.com
Strava, the social network for athletes, has released data from over 5.6 million runners showing the average best Mile efforts from 25 countries. This is ahead of the Strava Mile – a new campaign to encourage all runners to try to run their fastest Mile during June for a chance to win running shoes from Wiggle for themselves and up to ten of their Strava followers.
Over 60 years after Sir Roger Bannister ran the first ever sub-four minute Mile and Diane Leather ran the first-ever sub-five minute Mile by a woman, Strava notes that the magic of the Mile distance hasn't been lost, nor has the prestige.
A release from Strava adds that 'Almost any runner can get through a Mile, but it takes courage to toe the line and go for a new PR.
Continue reading at: www.triathalonbusiness.com