Sub-4 HS Miler Matthew Maton Ready for University of Oregon Debut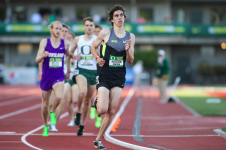 October 03, 2015
The freshman from Bend, Oregon, was trained by Parker Stinson during his last season of high school competition.
By Ben DeJarnette, Running Times
The last time Matthew Maton stepped onto a cross country course, the lanky standout from Bend, Oregon, smashed Galen Rupp's 11-year-old state meet record at the Oregon School Activities Association Championships, winning his second straight title in a blistering 14 minutes, 45 seconds.
After an eventful 11 months, highlighted by his 3:59.38 Mile last spring, Maton is expected to make his much-anticipated college cross country debut this Friday at the Washington Invitational in Seattle. "Honestly, I've been wanting to race ever since track ended," Maton said. "I just needed to put in a lot of work first."
Maton arrives at the University of Oregon on the heels of an historic, if checkered, senior season at Summit High School. In April, he ran 3:42.54 in the 1500 to break Rupp's state record by nearly three seconds. Less than a month later, the 19-year-old became the third fastest U.S. high school Miler and only the sixth American prep athlete to dip under the coveted 4 minute barrier (Grant Fisher, now a Stanford freshman, became the seventh in June).
Continue reading at: runningtimes.com