Superstar runner Katie Rainsberger closes out senior year with 10th state title, national attention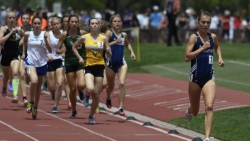 May 23, 2016
"She knows so much about the sport, she's such a good motivator, encouraging, taking the younger kids under her wing."
By John Meyer, The Denver Post
It is an hour before Katie Rainsberger will run her final race for Air Academy High School, the 1600 meters at the Colorado state high school meet on an unseasonably hot Saturday afternoon. One of Colorado's greatest-ever high school runners is lying in the shade under a team canopy, zoning out to focus her famous intensity, mostly silent, listening to upbeat tunes on her earbuds.
"Right now she's OK," whispers her teammate and best friend, Kayla Wiitala. "Sometimes you can't talk to her."
Katie is preparing herself to hurt. This is where she must go in order to be great, and to get there she needs to be left alone.
Continue reading at: denverpost.com