Teen phenom Efraimson poised for more success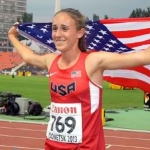 June 21, 2014
"I remember going up to my high school coach and I said, 'This girl is special.'" - coach Mike Hickey
By Christopher Chavez, ESPN.com
NEW YORK -- Going into the bell lap of the women's 1500 meter run at the 2014 adidas Grand Prix in New York City, 17-year-old Alexa Efraimson ran on the shoulders of world championship medalists Jenny Simpson and Brenda Martinez, and coach Mike Hickey watched.
Just four years ago, Hickey watched Efraimson practice as an eighth-grader and knew the potential for greatness was there.
"I remember going up to my high school coach and I said, 'This girl is special,'" Hickey, a coach at Clark College who also works with runners at Camas (Wash.) High school, said. "I thought from the start, you never want to get too ahead of yourself, but I believed she had a legitimate shot of winning some state titles."
Efraimson's walls at home are lined with more than just state titles. She won a bronze medal at the 2013 World Youth Championships and dominated at the Nike Cross Nationals in December. In March, she was named the 2013-14 Gatorade National Girls Cross Country Runner of the Year. Her 4:07.05 in New York was the second-fastest 1500m time ever by a high schooler.
Her time is just three seconds behind Mary Cain's American junior record of 4:04.62. Both were seen signing autographs and taking pictures with fans outside Icahn Stadium after the adidas Grand Prix, and the two are quickly popularizing running for the next generation.
Continue reading at: http://espn.go.com