Tefera captures Emsley Carr Mile crown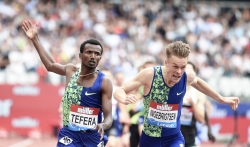 July 21, 2019
Runner-up Ingebrigsten nabs Norwegian record; 15 men better sub-4 mark at 67th edition
By Jason Henderson, Athletics Weekly
Until this weekend Haile Gebrselassie was the last – and only – Ethiopian to win the historic Emsley Carr Mile. The legendary runner won the race when it was held at Gateshead in 1999 and now, 20 years later, Samuel Tefera followed in his fellow countryman's famous footsteps by out-leanng Filip Ingebrigtsen in a thrilling finish on day two of the Müller Anniversary Games in London.
At the 67th edition, Tefera's time of 3:49.45 was also the quickest since 2003 as he held off Ingebrigtsen, who ran a Norwegian record of 3:49.60. It meant the 19-year-old wrote his name into history – quite literally, because a post-race tradition is for winners to sign an Emsley Carr Mile book which dates back to 1953 and includes legendary names such as Jim Ryun, Seb Coe, Steve Ovett and Hicham El Guerrouj.
"I am very happy to get the win and to be the quickest outdoors in the world this year," said Tefera, who won the world indoor title in Birmingham last year. "It was very strong competition so I knew I had to push all the way to the line."
Ingebrigtsen's national record came 24 hours after his younger brother, Jakob, set a Norwegian 5000m record when, coincidentally, being outkicked by another Ethiopian, Hagos Gebrhiwet. "Two national records for the Ingebrigtsen's is how we like it," he said. "With him doing a national record I thought I at least have to PB."
Similar to Saturday's middle-distance races on the first day of this Diamond League meeting, there were a number of good British performances further down the field. Jake Wightman, the 2017 Emsley Carr Mile champion, clocked a PB of 3:52.02 in third. Chris O'Hare ran 3:53.35 in seventh, just ahead of Josh Kerr, who clocked a PB of 3:53.88, while Jake Heyward continued his comeback from injury to clock a fine 3:54.78 in 10th and Piers Copeland and James West also broke 4 minutes with PBs.
More Müller Anniversary Games report at: athleticsweekly.com