The Fun Miler: Former World Record Holder Tony Waldrop Reflects on His Storybook Career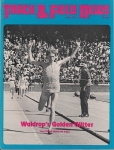 April 29, 2012
In the mid-1970s, American middle-distance runner Tony Waldrop was lighting the track on fire. As a University of North Carolina senior, Waldrop set the world record for the indoor Mile, running a blazing 3:55.0 on February 17, 1974 in San Diego. Earlier that same year, he became the first man to break 4 minutes at the fabled Wanamaker Mile (3:59.7), and later in the year, Waldrop also set the still standing Penn Relays Mile record in 3:53.2 (#5 all-time at the time), also his personal record and he tied Jim Ryun's NCAA record (right, courtesy Track & Field News). In 1975, after staying at UNC as an assistant coach, Waldrop won a gold medal at the Pan American Games in the 1500m metric Mile event. However, as the 1976 Olympic Games in Montreal approached, Waldrop, who used to wear a "Run for Fun" t-shirt at his post-race press conferences, abruptly retired, saying that he had met his goals as a runner. He subsequently went on to earn his PhD in physiology. Waldrop is currently the provost at the University of Central Florida. Bring Back the Mile's Duncan Larkin spoke with Waldrop about his Mile career and the Mile. NOTE: Tony passed away on December 3, 2022.
Bring Back the Mile: Looking back on your indoor world record in the Mile, what are some memories that stick with you about that 1974 race to this day?
Tony Waldrop: I guess what sticks with me is not so much the racing, but flying back to North Carolina after that race. On that flight, all of a sudden it dawned on me what I had done. It didn't really sink in until I was halfway back across the country.
BBTM: You were the first person to break 4 minutes for the Mile at the famed Wanamaker Mile also in 1974. What comes to mind when you think about that historic race?
TW: Actually that race was one, in which I have many fond memories about. Not so much, because I was the one who did it, but because the meet promoter at the time was a man named Howard Schmertz if I remember correctly, and his father was quite elderly at the time. He was worried that his father would not live long enough to see a sub-4 minute Mile. I remember Howard, the son, actually came down on the track and ran with me for a bit of it, for the victory lap, because he was so excited for his father.
BBTM: Jim Beatty, the first person to ever break the 4-minute Mile indoors, is a UNC Tar Heel just like you are. Did you have any connection with Jim during your famous 1974 Mile tour?
TW: I certainly knew of him as an athlete at Carolina. I knew what he had done. I've interacted with him several times. The highlight for me was either a phone call or a telegram, because those were the days when we used to send telegrams. But it happened right after I had run my world indoor record, so you can imagine how I felt hearing from him. I had always looked up to him as an idol and here he was acknowledging something that I had done.
BBTM: What does the Mile mean to you? Given what you were able to do while running it, do you consider it a magical event?
TW: It does in the sense that people of my age and I think for people as a whole, there is something magical about the Mile. Americans really relate to it. We are so prone to that distance. And despite the fact that the Mile has been run at 3:43, the lay public still understands that when a man runs a Mile under 4 minutes then that was really good. But I think if you made that comparison to the 1500 meters then they wouldn't have a clue. For public awareness and public appreciation, the Mile really does mean something.
BBTM: Do people still ask you if you are THE Tony Waldrop of indoor world record and Track & Field News cover-boy fame?
TW: Yes they do. The more frequent question they ask than that one, rather, is, "Do you still run?"
BBTM: That was one of my questions. Do you still run?
TW: Actually, I hardly ever run. I work out for 45 minutes or so each day, but I have torn the meniscus in both of my knees. I've just never taken the time to get fixed, so I do other exercise.
BBTM: What are your thoughts on the state of American middle-distance running?
TW: I would say since my time it's been up and down. The up parts were all the great American Milers of that time. But it's been a long time since an American has broken a world record in the 1500m or the Mile. As you know, that was something that was dominated by Americans during the Jim Ryun era. I am encouraged in that during recent years there seems to be a new wave of runners coming along. For example, I was delighted that someone finally got my NCAA indoor record in the Mile [German Fernandez broke Waldrop's 3:55.0 by running 3:55.02 on January 24, 2009, using technologically superior automatic clocking.] It had bothered me that the record had held for so long. It didn't mean anything to me anymore. But I knew that it would to someone else. And there's a new crop of Milers in North Carolina that I'm pleased to hear about.
BBTM: You used to wear a "Run for Fun" t-shirt at your post-race press conferences. Why was that?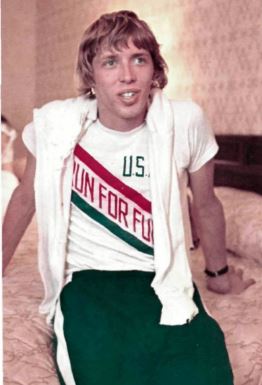 TW: By the time that I got any national attention, I had accomplished all the goals I had set for track & field. For me, it was about the joy of running. At times, the joy was even more so being out running with my teammates or just doing a workout by myself, and I didn't want to lose the purpose that I was continuing to run. And that was because of the enjoyment of it. Also, at times, I was concerned that some of the younger runners were being pushed so hard that they weren't enjoying any of the running. It was more a business for them, so that was my message about wearing that t-shirt.
BBTM: Do you think these kinds of pressure are still there in the running world?
TW: I think they probably still are, but I can't speak about it since I don't have any direct involvement with anyone. Pressures come from two sorts. If a person can set their own goals and decide what they want to do, I think that's much better than worrying about what other people expect out of them.
BBTM: You are currently a university provost and admitted that you don't run anymore. But do you still try to incorporate any lessons you learned as a runner nowadays?
TW: In the decades since I was competing I have said frequently that there is rarely a day when I don't use some of the things I learned from running—whether that's determination, whether that's understanding that you win and you lose, but that you keep your sights on ultimately winning. Or, quite frankly, it's about delayed gratification. As an elite runner, you have your whole life revolve around when you run and when you eat. I can remember a time when I had Thanksgiving dinner by myself at some roadside diner in California. I would even say in your professional life you have times where you are putting off some of those things, because you are pursuing a certain goal.
BBTM: Thank you, Tony.