The GNC Live Well Liberty Mile Preview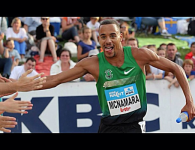 August 08, 2013
Jordan McNamara is the 18th-fastest American of all-time at 1500 meters.
By Jesse Squire, The Daily Relay
On Friday night, the eve of the World Championships, the GNC Live Well Liberty Mile will be run in the streets of downtown Pittsburgh. The race is in its second year and is part of the inaugural Bring Back the Mile Tour.
This race is part of a broader movement towards road Mile races and other stand-alone Mile competitions. This movement may do more for the professional, spectator-oriented end of track and field as a whole than we might now realize.
The Liberty Mile's elite fields are tough and chasing a first-place prize of $4000. The men are led by Jordan McNamara, a recent 3:52 Miler and subject of a Pat Price Five Questions. Others include Miles Batty, former indoor collegiate record holder at BYU; Daniel Clark, who just won the Ryan Shay Mile in Charlevoix in a PR of 3:56.8; and six other sub-4:00 Milers. There's a real possibility of breaking the long-standing record for the fastest Mile ever run in Pittsburgh, 3:56.2 run by the legendary Eamonn Coghlan in May 1975.
The women's race is headlined by Heather Kampf, the defending champion who broke the course record at the Ryan Shay Mile in July; Chelsea Reilly, the recent Cal grad and Jackie-of-all-trades; and Geena Gall, a 2012 Olympian at 800 meters.
This particular race is doing more than just riding a new fad and lining up top talent. Lots of races do that and not much more. The Liberty Mile is coming up with creative ways to attract attention for both the amateurs and professionals.
Participants can "Play the Pros" on race day by picking a male or female to win at an information booth. They get an athlete's Big Head (made famous in PTI's "Role Play") to cheer for their pick. Those who pick correctly win a prize.
Continue reading at: www.dailyrelay.com