The Jim Ryun, Mile Legend, Interview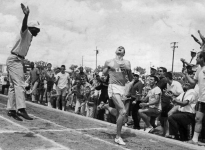 October 28, 2016
We need to be far more fan-friendly and that's why I'm so pleased with 'Bring Back the Mile' and what they have been able to do. It's one of those efforts where we realize they are investing in the future and the public and it helps people to identify with it all.
By Gary Cohen, garycohenrunning.com
Jim Ryun is an iconic middle distance runner who was the first prep runner to run a sub-4:00 Mile which he did in 1964 in 3:59.0. His 1965 time of 3:55.3 stood as a high school record for 36 years. A three-time Olympian in 1964, 1968 and 1972, Jim won the silver medal in the 1968 Olympic 1500 meters in Mexico City. Jim set World Records in 1966 of 1:44.9 for 880 yards (1:44.3 for 800m en route) and the Mile (3:51.1). In 1967 he set World Records of 880 yards indoors (1:48.3), Mile (3:51.1) and 1500 meters (3:33.1). He tied Tom O'Hara's indoor Mile WR of 3:56.4 in 1971. Four times he broke the U.S. Mile record. Ryun still holds American Junior (19 & under) records at 880 yards (1:44.9), 1500 meters (3:36.1), and 2 Miles (8:25.1). The five-time NCAA champion from the University of Kansas won the indoor Mile three times (1967, 1968 and 1969), indoor 2-Mile (1968) and outdoor Mile (1967). At Wichita East High School Jim was three-time Kansas State Mile champion. He was 1966 Sports Illustrated 'Sportsman of the Year', 1966 Sullivan Award honoree, 1966 ABC's Wide World of Sports Athlete of the Year, and Track & Field News 1966 and 1967 Athlete of the Year. Ryun was inducted into the Kansas Sports Hall of Fame (1977), U.S. Association of Track & Field HOF (1980), National High School HOF (1983), National Distance Running HOF (2003) and Wichita East HOF (2004 Inaugural Class). He earned a Bachelor's degree in photojournalism at the University of Kansas. Jim served five terms as U.S. House Representative from Kansas from 1996 to 2006. Each summer he hosts the Jim Ryun Running Camps which can be found at www.ryunrunning.com. Jim and his wife, Anne, of 47 years have four children and seven grandchildren. They reside in Washington, D.C. Jim was so gracious to spend an hour and ten minutes on the phone for this interview in the late summer of 2016.
GCR: It has been over five decades since you were the first high school runner to run a sub-4 minute Mile. Could you describe what it meant then to achieve a breakthrough goal and, even more importantly, what it has meant as it has stood the test of time and only eight more U.S. preps have dipped under this special mark?
JR: Let me begin with the last part of that question – I'm surprised it has stood as long as it has and there haven't been more high schoolers who have run under four minutes. It's one of those surprising things because I ran under four minutes for the first time in 1964 and then Tim Danielson and Marty Liquori followed in the next few years, but then there was this huge gap. I don't think any of the three of us would have sat down and thought we had done something that was going to last such a long period of time without someone coming along and running under 4 minutes. Let me go back to when I was a young guy growing up in Wichita, Kansas and couldn't make an athletic team. I was cut from the church baseball team. I tried basketball by invitation of the junior high basketball coach and about halfway through practice he wanted to have a meeting in his office. I went in and he asked if I noticed there was a difference in the way I play and the other boys play. I said, 'Sure, my game is in the process of getting better and maturing.'' He said, 'Maybe when you enter high school you may have developed a basketball game, but just hang your singlet on the door and I'll see you in gym class.' At that point I was struggling to find something I could do in sports and I went out for the junior high school track and field team. I successfully stayed out for three years but I never really made the team. I would go to bed every night and say a simple prayer, 'Dear God, I really want my life to amount to something and it would be nice if it was in sports because if you look now it really isn't going well.' I think that everyone who has ever done anything in life or in sports has that kind of 'Hail Mary moment.'
Continue reading at: www.garycohenrunning.com