The Lauren Johnson Story: From Over 2:20 for 800 in HS to the U.S. World Championships 1500 Team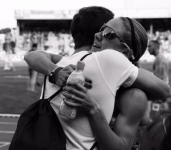 August 18, 2015
"You wouldn't necessarily put a Lauren Johnson into the top echelon of the American middle distance crew," Rowland said. "She took her opportunity…. that's the beauty of our sport. That's what make us tick and keeps us going."
By Jonathan Gault, LetsRun.com
With 100 meters to go in the women's 1500 final at the 2015 USATF Outdoor Championships, a living room full of people in Huntington, Ind., sat on the edge of their seats. Over two thousand miles west, in Eugene, Ore., Oregon Track Club Elite assistant coach Nick Johnson looked down from high in Hayward Field's East Grandstand alongside his boss, OTC head coach Mark Rowland. On the track below, the woman they were all watching — OTC runner and Huntington native Lauren Johnson, who just happens to be Nick's wife — hugged the rail in third.
The race had gone out slowly, 2:26 through 800 meters, and with only a straightaway to go, 10 women still had a chance of grabbing one of the four spots on Team USA at the IAAF World Championships, which begin on August 22 in Beijing. Defending champion Jenny Simpson, already on the team by virtue of her 2014 Diamond League title, began to pull away. Shannon Rowbury, who would set the American record three weeks later in Monaco, followed her. Clad in her green and white OTC kit, Johnson drifted out into lane 2 to follow them, but Rowbury and Simpson were moving too quickly. With 50 meters to go, Kerri Gallagher slid in front of Johnson. 2013 U.S. champion Treniere Moser had gained a step on Johnson on the outside. Johnson was now in fifth place, and her shot at the team was slipping away from her.
"I thought she was tightening up," Nick Johnson said.
Continue reading at: letsrun.com