The Legacy of New Zealand's Milers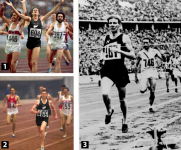 August 19, 2015
Jack Lovelock, Peter Snell, and John Walker paved the way for future Kiwi stars like Nick Willis.
By Roger Robinson, Running Times
When Nick Willis was a boy in Lower Hutt, New Zealand, he used to watch videos of Kiwis Jack Lovelock, Peter Snell, and John Walker winning Olympic 1500m gold medals. In 2008, in the footsteps of those heroes, Willis took the silver medal.
In the history of the fiercely contested Olympic 1500m, New Zealand's resume is extraordinary—three gold, one silver, two bronze. The list is testimony to the rare mix of long-term work and astute inventiveness that typifies that feisty, faraway little country.
In 1936, the light-stepping Lovelock unveiled a new tactic—a long kick from 300m out—for a world-record Olympic victory that he justly called "an artistic creation." By contrast, Snell in 1964 astounded the world with his sheer power, and when John Davies held third, it confirmed the endurance strength they acquired from Arthur Lydiard's training.
Continue reading at: runningtimes.com