The Mile: America's Classic Distance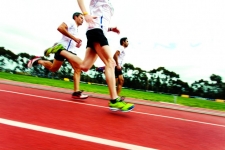 May 09, 2014
If your running is feeling stale, start training for the Mile.
By TJ Murphy, Competitor
Rob Delong was like most kids growing up when it came to running. Every year in gym class, he had to run a Mile.
That was the endurance component of the Presidential Physical Fitness Test, a grade school program developed during the Eisenhower administration to encourage American children to be healthy and active after a study showed their European counterparts were much more fit.
Fast-forward 20 years and, in the midst of getting fit for his first marathon, Delong, a 34-year-old Manhattan currency broker, found himself channeling his younger self.

Read more at: running.competitor.com