The Mile centerpiece for the inaugural Sir Peter Snell International Meet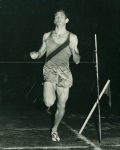 February 05, 2019
"We want to reinstate the One Mile Championship name and make this event an annual sanctioned fixture at Cooks Gardens."
By Iain Hyndman, Whanganui Chronicle
The athletics fraternity will finally get to celebrate Whanganui, Sir Peter Snell, Cooks Gardens and what all three bring to the global Mile.
The Whanganui Sports Heritage Trust, in conjunction with Athletics Wanganui, will host the inaugural Sir Peter Snell International Track Meet at Cooks Gardens on Saturday, March 2 after the event was postponed last year.
Sports Heritage Trust co-ordinator Russell Sears said the March event had Oceania Athletics area permit approval which gave athletes the ability to gain important IAAF ranking points.
The One Mile Championship event will take center stage, closely followed by the men's 800 meter race.
"Both distances are synonymous with Sir Peter Snell, who was essentially an 800m runner until he stepped up to the Mile. In fact, Snell still holds the New Zealand record for the 800m (1:44.3)," Sears said.
Snell, of course, famously made Cooks Gardens a global household name when he lowered the world Mile record by a tenth of a second, clocking 3:54.4 in Whanganui on January 27, 1962 and one week later set new world records for both the 800m and 880 yards (804.7m) at Christchurch.
Sears said the March meet would also reinstate the One Mile Championship, which had undergone numerous name changes since its first running at Cooks Gardens in 1898 as part of the New Zealand Championships.
Continue reading at: nzherald.co.nz