The Milers: Cory Leslie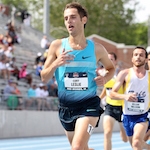 January 28, 2015
JDL Fast Track facility and North Carolina state record holder in the indoor Mile, NCAA All-American at Ohio State and Furman Elite team member vies for portion of $15,000 Camel City Elite Mile prize purse on Saturday, January 31.
By Bring Back the Mile
In 2015, Bring Back the Mile will bring you exclusive interviews with some of the world's top Milers highlighting life on and off the track. We kick things off with Cory Leslie, who will be racing at the Camel City Elite Mile presented by Salem Sports on Saturday, January 31 at JDL Fast Track in Winston-Salem, NC. The Camel City Mile is the first stop on the BBTM GP Tour 2015.
A steeplechaser by trade, Leslie has made a name for himself as a Miler taking down various state and facility records. He holds a 3:53.44 personal record from just last year and is the facility and North Carolina state indoor record holder in the Mile heading into this weekend's battle. Leslie also is the indoor Mile record holder at his alma mater, Ohio State, in addition to owning state records for Rhode Island (outdoor) and South Carolina (overall).
BBTM: Let's cut to the chase. Especially with University of Oregon's history in Track & Field, how does it feel to have The Ohio State University win the Football Championship title over the Ducks?
Leslie: While I certainly won't try and argue Oregon's rich Track & Field history, The Ohio State was home to Jesse Owens, Butch Reynolds, Glenn Davis and Robert Gary. But for the Buckeyes to walk away with the inaugural College Football Playoff is pretty special, and being able to be in the stands to witness it was even better. While I can assure you I played no role in the victory, I certainly talk about it as if I was calling the plays.
You're also a big fantasy football guy according to some of your writings. Who makes your all-time fantasy Mile squad? Let's make it a XC co-ed style squad. Pick four males and three females, all-time and from any country.
Assuming it's a winner take all final (and I hold the first 7 draft picks) im going with:
HIcham El Guerrouj
Asbel Kiprop
Zola Budd
You own three state Mile records - North Carolina indoor (3:57.81, Camel City Mile, 2013), Rhode Island's first sub-4 Mile and state record (RunRhody.com Exeter / West Greenwich Mile, 3:58.98, 2012) as well as your now home state of South Carolina's Mile record (Blue Shoes Mile, 3:56.18, 2013). Steve Scott may have the most sub-4 Miles of all time, but have you given some thought to go after the most state Mile records?
I honestly hadn't thought about it. How many does Mr. Scott have? Maybe after 2016 I'll look into it. Or maybe I'll try and run sub-4 in every state.
Your 3:57.81 at the Camel City Mile in 2013 remains the facility record. What is the secret to running on an indoor flat track and do you perceive any difference between an indoor flat track and a banked one?
I actually don't mind it. While in college we would spend all winter on a flat 200 track so it doesn't bother me at all. Obviously, it may slow things down a bit (not sure it's worth the generous 3.5 sec conversion), but anytime you get into a race you're more focused on competing and executing a race plan as opposed to what kind of track your running on.
Your team, Furman Elite based in Furman, South Carolina, is a unique partnership between a private college and a professional team. What are some of the most beneficial elements to an individual athlete being on a team as well as the college behind it.
I honestly couldn't think of a better, more unique set-up for a post-collegiate group. To have so many people from the University behind Furman Elite and supporting us as much as they have is unbelieveable. Between them and donors, they have allowed us to focus solely on chasing the Olympic dream and continuing in a sport that some of us would have had to give up without them.
What are your goals for the 2015 Track & Field season - indoors, outdoors & on the roads?
The main goal the winter is trying to run a PR in the Mile and put myself in position to win at USAs. Outdoors the sole focus will be ob making the world team.
What is driving you in the morning to get out and train?
Finally an easy question - Rio 2016
Athletes always get asked what they eat before races or during training or what their favorite foods are, but day-in-day-out how would you simply describe your nutritional philosophy?
I would be lying if I said McDonald's wasn't my favorite place on earth. But I try to save that for the short break we get between each season. When "in season" it's mostly oatmeal, eggs, and pasta with chicken or fish. You could say I'm a pretty sweet chef. And ALWAYS, ALWAYS a Snickers bar the night before a race.
How many servings are there exactly in a jar of Nutella?
Well, the jar I finished yesterday had 20. I'm sure they exaggerate by 16 servings or so though.
What did you want to be when you grow up?
NBA player, who didn't want to be like Mike growing up.
How did you initially get into the sport of Track & Field?
My dad was my sisters coach when they started in High School, so naturally I got drug to all of their meets. And after my mom stopped attending my junior high football games because she feared for my life, I finally made the transition to Track & Field.
What do you want to be now when you grow up?
The more time I spend as an assissant coach at Furman under Coach Gary the more I want to be a head coach and run a program after my career is over. I get way more nervous watching them compete then I do for my own running.
Most memorable Mile?
Breaking four for the first time at Penn State in 2011. Mostly because it was the first-time I ever beat my training partner Jeff See.
What does Bring Back the Mile mean to you and did you notice that the IAAF is now accepting Mile times (3:53.30 – men and 4:25.20 – women) for the 2015 World Championships 1500m qualifying?
Great for the sport. Giving not only elite athletes, but also the everyday runner opportunites to run and participate in Mile races on the track and road across the country while bringing knowledge to the event it great.
[The IAAF news] certainly seems fair, being a steepler though it doesn't affect me any. I can't think of a reason why anyone would be opposed.