The Most Important Mile of My Life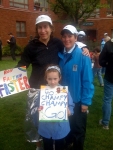 August 22, 2013
Encouraged by 1992 Olympic bronze medalist Lynn Jennings: "that Mile cemented my faith in my ability and determination."
By Sarah Bowen Shea, Another Mother Runner
I'd done a timed Mile before–but never one with the eyes of an Olympian glued to me. This time, Lynn Jennings, the 10,000 meter bronze medalist at the 1992 Barcelona Games and three-time world cross country champion, is encouraging me to run all out four times around a track. Two years previous to this overcast, chilly morning, I'd run 7 minutes, 34 seconds for the Mile, and I had been elated. In the intervening years I'd honed my speed, and Lynn has unwavering confidence I can run well under 7:00. The number sounds dauntingly hard, but having a world champion believe in you does wonders for your ability.
Under the weak winter light, Lynn stands on the far curve of the Grant High School track, hunching over slightly in her Gore-Tex jacket and baseball cap with an iPhone in her hand. She is the only witness as I circle the track, once, twice, three times (that is the toughest one!), then the final lap. She eggs me on in the same firm-yet-encouraging tone I'd heard her use when we had watched Kara Goucher nab her qualifying time for the 2008 Olympics Trials. Me: an Olympian is cheering on me, encouraging me to push to my limits. I want to do well for me–and for her. I long to have Lynn proud of me, as she prepares to train me to reach toward my marathon PR that spring.
With limbs tingling and lungs heaving, I clock a 6:37 Mile that morning on the track–and, four months later, go on to cut roughly eight minutes of my marathon best in a time of 3:52.
That Mile showed me how deep I could dig, how far I could push past the hurt and perceived limitations. In the four-plus years since, I've never run that fast again, but that Mile cemented my faith in my ability and determination. That Mile, the most important one in my life, gave me the fortitude to qualify for Boston and to persevere through some blisteringly hot marathons. That Mile made me the confident, ever-optimistic runner I am now – no matter what pace my miles are today.
Continue reading at: http://anothermotherrunner.com