The Roger Bannister Interview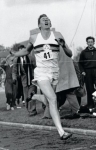 May 16, 2014
Sir Roger Bannister, 85, on the day he made history - and why he'd rather be remembered for his neurology than his running
By Jane Graham, The Big Issue
At 16 I was focused on getting to Oxford. No member of my family had studied there. It was quite difficult to get into Oxford then. I was impatient to leave school for reasons I'm not sure of now, but I was keen to get on with my medical career.
I'd tell my younger self he could and should learn more from his parents. I was rather independent then, though my parents did encourage me. I was always very active and involved in things. I threw myself into everything when I was at school, then when I was at university – president of the sporting club and the students' union. I always felt I must exploit the opportunities my parents hadn't enjoyed to the full. And Oxford is a wonderful place.
It seemed to be the fashion in Oxford to have a sport so I went along to the track, paid my guinea, and joined the athletics club. I didn't run very fast at first – I was included in the team because I'd been seen diligently shovelling snow. In my first big race I was the third-string runner. I was told just to keep out of the way. But with 200 yards to go I felt I could still run faster. So I overtook everyone and won by 10 or 15 yards.
Continue reading at: www.bigissue.com