The summit chase of an organization Miler: Jim Beatty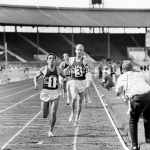 September 03, 1962
"Everybody said the American runner is lazy, don't work. Now the American distance runner is the best in the vorld."
By John Lovesey, Sports Illustrated
Getting to the top these days is not so much a climb for mountaineers as it is an exercise in pyramidal logistics. A large expedition, growing smaller as it moves base camps higher, heaves and strains to place, ultimately, one man on the peak.
For almost a year now the same technique, with necessary variations, has been used by the Los Angeles Track Club. Entering as a team of four in the same race, say the Mile, they take turns pacing each other through the first three-quarters, then look to one man for a record. The man in every case is Jim Beatty, and the record, twice during the past fortnight, has been Peter Snell's world Mile standard, 3:54.4. In London and Helsinki, just three days apart, Beatty ran two magnificent Miles—the two fastest ever run by an American (U.S. outdoor records)—but at the end of both he was still searching for fulfillment. Even for an organization Miler, passing Snell was becoming as frustrating an experience as climbing Mount Everest.
The Los Angeles Track Club, coached by Mihaly Igloi, had gone to Europe frankly in search of records, but from the start a cloud seemed to attach itself to the party. Before the first race at 2000 meters in London, the heavens opened wide. Beatty, with Jim Grelle, Bob Seaman and the aging Laszlo Tabori, found himself splashing around in ankle-deep water. It was typical English fare, like fish & chips and tea. Doughty Yorkshire runner Derek Ibbotson squished to victory while the Americans, all except Seaman, earned themselves a scathing press by dropping out after two laps for fear of pulling muscles. "Inexcusably bad sporting manners," snorted the London Daily Herald's Peter Lorenzo.
It was also wet in Oslo, the next stop, but there, on a heavy track, despite several days of missed training, Beatty managed 3:39.4 for the 1500 meters, the best recorded time this year. At Avranches, France, where rain had saturated the track, too, Beatty next clocked 7:54.2 for 3000 meters. The time, 1.4 seconds short of Gordon Pirie's recognized world record, has been bettered by only three men.
Continue reading at: si.com/vault