This Is Why Runners Cling to Their Race Day Superstitions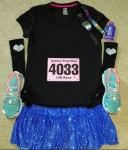 November 19, 2017
"I would wear the same socks to every race and use lucky body wash the night before. It was exhausting to keep up." - Katie Mackey
By Cindy Kuzma, Runner's World
If you follow Olympian Molly Huddle on Instagram, you know she has a secret—beyond arduous training—to her successful performances: race nails.
Since sixth grade basketball, Huddle has painted relevant designs on her fingertips the night before a competition. The Providence, Rhode Island-based American record holder in the 10,000 meters prefers to handle her own manicure rather than hitting the salon.
"Even though they look much better when someone else does them, I like to compare the process to adult coloring books," she says—meditative and relaxing, shifting her mind into competition mode.
Many runners have quirky prerace rituals. The night before a race, Chicago ultramarathoner Becca Menke, 28, sleeps in the soccer tryout jersey she got when she was 9. "I made the team and it's become my lucky charm," she says.
Continue reading at: runnersworld.com