Track & Field News Interview with Bernard Lagat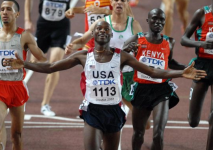 April 28, 2013
By Sieg Lindstrom, Track & Field News
He is 38 now, but if Bernard Lagat has lost some speed on his fastball, the falloff is hard to detect. He set an American Record in the 2-Mile this winter (8:09.49), won the World Indoor 3000m title last year and missed a 5000 medal in London by a fraction of a second. As you may discern from his comments here, Lagat is a goal-oriented athlete who is still at no loss for goals.
That doesn't mean the former Kenyan—who became a U.S. citizen in '04 and first earned medals for the red-white-and-blue in taking a 1500/5000 double at the '07 World Championships in Osaka— is a track & field one-track mind.
Lagat, as we've seen from the near omnipresence of his young son Miika and daughter Gigi whenever dad takes a victory lap, is a family man.
He even finds time for other sports. Which sports may surprise you. When we checked in with Lagat, he had spent 2 hours the previous afternoon playing street hockey with Miika. Hockey? In Tucson? He reminds us that his wife, Gladys, was born in Canada.
When the Lagats attended a recent NHL game pitting the Phoenix Coyotes against the Vancouver Canucks, Bernard was the lone supporter for the home team. "Miika and Mommy were for the Canucks because Gladys is a Vancouver native," he laughs. "I was the only Coyote."
Lagat is also a golfer. He sat down for this chat with T&FN after an afternoon on the links.
Continue reading at: trackandfieldnews.com