Track and Field News Interview with Matthew Centrowitz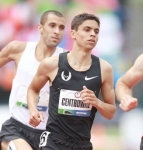 March 12, 2013
By Jon Hendershott, Track and Field News
Top-rated U.S. Miler Matthew Centrowitz is in his second full pro season, now training with Alberto Salazar's elite group in Portland.
The 23-year-old Maryland native is the son of '76 Olympian Matt Centrowitz, who also made the '80 team and set a 5000 meter AR in '82. The family also includes mother Beverly, a 400-800 runner at Hunter College and older sister Lauren, who ran collegiately at Stanford.
But Oregon alum Matthew, the '11 World Champs bronze medalist, definitely is his own man—and not because he has bettered his dad's family bests in both the 1500 and the Mile.
Continue reading at: trackandfieldnews.com