Two races hope to reignite local interest in "The Mile"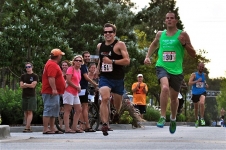 July 24, 2014
No running distance, or field event for that matter, has the history, the appeal, the "magic" of the Mile.
By David Quick, The Post and Courier
Long before the rise of the marathon and the 5K, and mud runs, color runs and rave runs, there was "The Mile."
The Mile run is 5,280 feet or exactly 1,609.344 meters and has its roots in England, where it was used as a distance for gambling races.
Over the course of last 40 years of the "running boom," this classic, this American beauty, has faded from glory. My theory is that it's too short, but also too painful and reliant on natural speed, for it to match the goal-setting needs of the everyday adult.
The Mile, however, has some advocates.
"The Mile is a great opportunity to check your fitness, get in some speed work, and get a rust buster in before the fall 5K season starts up a few weeks later, " says Academic Magnet High School running coach Brian Johnson, who is organizing one of two local one-Mile races in the coming weeks.
"Most people have a run a Mile at some point in their life. This gives them an opportunity to see how they compare to their high school PE class days. It also gives regular runners an answer to the age old question they get from friends, family and co-workers when they find out you run which is, 'How fast can you run a Mile?'"
Continue reading at: www.postandcourier.com