U.S. Olympian Ben Blankenship Eyes Third Fleet Feet Liberty Mile Title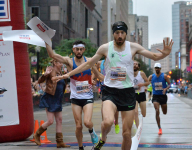 July 05, 2023
Scheduled for Friday, July 7, downtown Pittsburgh's only night time road race will offer a prize purse of more than $23,000; Fleet Feet Elite Derby returns with the opportunity for participants to win a special prize from Brooks Running
From P3R
PITTSBURGH – U.S. Olympian Ben Blankenship and other top Milers will join 1,500 other runners who will test their speed at the Fleet Feet Liberty Mile on Friday, July 7. Downtown Pittsburgh's only night time road race has attracted both first-time runners, as well as some of the country's fastest athletes who will compete for the $23,400 prize purse.

A two-time Fleet Feet Liberty Mile champion (2016-17), Blankenship, 34, just missed clinching his third title in last year's race when he finished second to Vincent Ciattei. This year he hopes to break the tape and become the first man to win the event three times.

"This may be the most interesting Fleet Feet Liberty Mile I've run in my career. Coming off the 4th of July's Peachtree 10K and in a marathon build-up, I'm excited to rip a solid Mile and look to win a third Fleet Feet Liberty Mile title," Blankenship said. "I wouldn't miss an opportunity to come back to Pittsburgh and run one of my favorite Mile races of my career."

Joining Blankenship at the start line are Amon Kemboi, a University of Arkansas grad who recently won the 1500 meters race at the Portland Track Festival, and Jack Antsey, an Illinois State grad with a Mile personal record of 3:55.41, who last Saturday won the Yakima Mile in 3:58.5.

On the women's side, Stephanie Brokaw (née Brown) will return to race in Pittsburgh after a five-year hiatus. In her last Fleet Feet Liberty Mile appearance in 2018, she finished runner-up. This year she will face tough competition from Grace Barnett, a Clemson University grad with a road Mile personal best of 4:21.58.

Ending the night of races, the Pro Heats, presented by Fleet Feet, are expected to draw a big crowd of spectators. Participants in the other heats will have their chance to try their luck in the Fleet Feet Liberty Mile Elite Derby and will be randomly assigned to one of the elite runners participating in the Pro Heats. If their assigned elite wins their race, they will win a Chaser Hat from Brooks Running.
The Pro Mile features $16,500 in guaranteed prize money going five deep per gender with each race champion awarded $4000. In addition to the Pro Mile, prize money is also available for the top five fastest athletes in the following heats: Unstoppable presented by Brooks Running, Masters presented by UPMC Health Plan and National Senior Games.
For more event information or to register, visit: LibertyMile.org