U.S. women break out in long jump, 1,500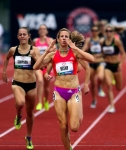 July 02, 2012
By Luke Cyphers, ESPN.com
EUGENE, Ore. -- Fans of U.S. women's track, meet depth.
At the 2008 Beijing Games, the Americans didn't get near the podium in the 1,500 meters or the long jump. But on the final day of the Olympic trials Sunday, the U.S. picked squads in the two events that could produce multiple shiny, metal objects -- a battle-hardened group of Milers and the greatest group performance in the long jump in U.S. history...
..."Watch out world," said Shannon Rowbury, who finished second (4:05.11) in the résumé-laden 1,500. Rowbury, the bronze medalist in the 2009 world championships, qualified just behind last year's national champion, Morgan Uceny (4:04.59), and just ahead of last year's world champion, Jenny Simpson (4:05.17). "I can't think of a better U.S. team to be sending."
Continue reading at: ESPN.com