Uceny is back: wins Furman Elite 1500 meters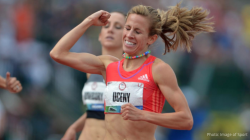 June 07, 2016
2012 Olympic Trials 1500m champion leads 8 women under the 2016 Olympic standard
By Meg Bellino, FloTrack
The goal of the Furman Elite 1500m is simple. Set up two races, rabbit them perfectly, and help athletes get the Olympic standard.
The event was a massive success on the women's side as eight women smashed the 4:07.00 IAAF Olympic standard and 10 total dipped under the USATF qualifying time of 4:09.50. Morgan Uceny, a 2012 Olympian and 2011 world championship finalist, stole the show by winning in 4:03.94, her fastest time since 2012.
Lauren Paquette rabbited the field as prescribed with an opening 400m split of 64 seconds. World championship steeplechase finalist Stephanie Garcia and American Junior record-holder Alexa Efraimson latched on to Paquette, who led the field through 800m in 2:09. Uceny and Canadian Olympian Nicole Sifuentes remained close behind the leaders.
Continue reading at: flotrack.org