Uceny Making Peace with Her Olympic Fall in 1500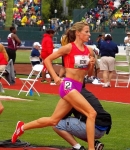 August 12, 2012
By Pat Graham, Associated Press
LONDON — Days after her fall, Morgan Uceny was still trying to piece together what exactly happened.
Uceny was in good position to challenge for a medal in the Olympic 1500 meter final Friday, when she was tripped from behind on the last lap and fell to the track.
In one of the most memorable scenes at the Olympic track, Uceny smacked her palms against the surface in frustration before erupting into tears.
Continue reading at: google.com