Uceny Ponders Future After Heartbreaking Olympics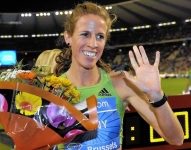 August 19, 2012
By Tim Creason, South Bend Tribune
Morgan Uceny doesn't really know what happened. All she knows is that one moment she was racing, the next moment she was lying on the track.
And now, she has a lot of decisions to make about her future.
It's been just over a week since the pride of Plymouth was knocked out of contention in the women's 1500 meter run at the London Olympics. With one lap remaining in the gold medal race, the 2003 Plymouth High School graduate tumbled to the ground, just as she was moving into position for a dash to the title.
Continue reading at: southbendtribune.com