Uceny Ships Up to Boston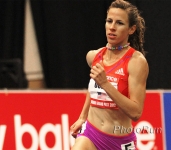 January 23, 2014
2012 Olympian opens her season on Saturday by running the Mile at the New Balance Games in New York City
From New Balance Indoor Grand Prix
Boston, long known as a distance-running mecca, is now home to one of the world's top Milers: Morgan Uceny, who has joined the Boston Athletic Association's new high-performance group headed by her long-time coach Terrence Mahon.
Living in East Watertown, Uceny—who was ranked #1 in the world at 1500 meters / Mile in 2011—can head about 1.5 miles in one direction to reach the popular running path along the Charles River, or a mile in the other direction to the widely known 2.5-mile loop around Fresh Pond. Or she can run through the Emerald Necklace out to Jamaica Pond, whose plowed 1.5-mile path is a godsend to the locals training for the Boston Marathon.
And she's only about 10K from the Reggie Lewis Center, where she will compete in the 1000 meters at the New Balance Indoor Grand Prix on Feb. 8.
"I've seen the world, and the country," said Uceny, who spent 2013 training with Mahon in England and two months this fall at altitude back in Mammoth Lakes before heading East. "Boston's been a really good experience so far. All of us (including training partners Anna Willard and Jen Rhines) are really excited about hopefully staying here more permanently … hopefully until the end of my running career. That would be great."
Uceny, 28, ended last season on a high note with two good road Miles, a win at the CityGames in England and a strong runner-up performance at the NYRR Fifth Avenue Mile presented by Nissan. But for most of 2013, she struggled to recover after crashing to the track on the last lap of the 2012 Olympic final.
Continue reading at: http://nbindoorgp.tumblr.com