Uceny: No Longer the Miler to Beat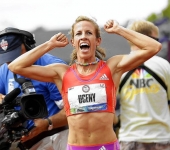 June 19, 2013
2012 Olympian battling to return to elite form at USA Outdoors
By Tim Creason, South Bend Tribune
Here we go again. Or do we?
The USA Outdoor Track & Field Championships begin Wednesday in Des Moines, Iowa, and Plymouth native Morgan Uceny is seeking her third consecutive national title in the women's 1500 meter run.
But things are different this time. And her competition knows it.
It's been a little more than 10 months since the world watched in disbelief as Uceny tripped and fell to the track with one lap remaining in the gold medal race at the London Olympics. Her anguish, recorded and replayed a thousand times over on worldwide television, was felt by the entire Plymouth community.
A lot of things have changed since then.
Uceny, 28, is not the same dominant runner that she was a year ago, when she powered to an impressive victory at the U.S. Olympic Trials, backing up her ranking as the No. 1 women's miler in the world.
This season, she's not running as fast. And she's not winning many races.
Track & Field News magazine, in fact, is picking Uceny to finish sixth in the national championship race this Saturday.
That's critical, because the top three finishers will make the U.S. team that competes later this summer at the World Championship meet in Moscow. And if there's one thing Uceny wants to do, it's get back to the World Championships and make another run at a gold medal.
"Training since the Olympics has been, in a word, challenging," says Uceny, who spoke to the Tribune as she packed for Des Moines.
"I was dealing with injuries, so training was delayed and it took me a bit longer to get back to a normal training level," she said. "There have also been several other bumps in the road to overcome, but that's life."
Continue reading at: www.southbendtribune.com