Vancouver's Miracle Mile puts $10,000 up for grabs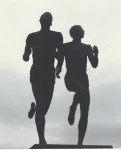 July 09, 2014
July 10th event part of 31st Harry Jerome Track Classic; $6000 to Mile champion with $4000 for sub-3:56; Canadian Nate Brannen headlines men's field to honor legends Roger Bannister & John Landy
By Scott Leitch, Canadian Running Magazine
To mark the 60th anniversary of Roger Bannister's first sub-4 minute Mile and the thrilling, historic duel with John Landy, the Harry Jerome Track Classic has a hefty prize slated for their headlining Miracle Mile event on Thursday, July 10.
The 31st Harry Jerome Track Classic, the final stop on Canada's National Track League circuit, is offering up to $10,000 in prize money to the winner of the men's Mile. The prize breakdown is $6000 for the winner, with an additional $4000 if the champion runs under 3:56. It's not common to see prize pots of this size for Canadian track races.
The Miracle Mile, as it was called 60 years ago, was the Mile race contested at the 1954 British Empire and Commonwealth Games which featured the only two men to have ever run under 4 minutes in the Mile: Bannister and Landy. Briton Bannister won, overtaking Landy of Australia in the final straight to set a new event record and it was the first ever Mile race to have two men run under 4 minutes. The Games were held in Vancouver.
Continue reading at: http://runningmagazine.ca