Verzbicas Breaks 4 Minute Mile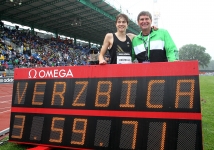 June 11, 2011
"Until the race started, I thought this was going to be effortless and I was going to do it, but once the race got started, it was actually harder than I thought."
By Bill Carey, Sports Illustrated
NEW YORK -- Lukas Verzbicas sat alone at a table checking his phone, still smiling 30 minutes after he closed out what might be the best high school distance running career ever with a 3:59.71 Mile at the adidas Jim Ryun High School Dream Mile at Icahn Stadium in New York City.
The 18-year-old recent graduate of Carl Sandburg High School in Orland Park, Ill., was already in rarefied air before he became just the fifth U.S. high school runner to ever break 4 minutes and the second in a high school-only competition on Saturday. He won five national championships between December and March, and last weekend, he shattered the national high school outdoor 2 Mile record by five seconds when he ran 8:29.46 at the Prefontaine Classic in Eugene, Ore. But even for Verzbicas, the sub-4 showing was "unreal."
"For me, this is the most impressive win," he said, "just because it was so difficult and because of the conditions. It was just so hard to do. The fact that I did it made me really proud of that."
He vowed to break 4 minutes in the Mile before he graduated high school, but his splits were slow enough halfway through the Dream Mile that he momentarily stopped thinking about his goal. The 6-foot, 135-pound runner had the cool temperatures he wanted, but the wind coming down the homestretch made his task more difficult, and the 2:02 split for the first half mile was not what he planned.
He expected to take the lead from the pacer, but he hit a snag there, too, as California state champion Jantzen Oshier kept a small advantage. Verzbicas didn't move ahead for good until about 700 meters to go. He put a small gap on the field, but New Jersey's Edward Cheserek, Indiana's Austin Mudd and California's Elias Geydon kept within reach. "I couldn't have done it without all those guys," Verzbicas said.
As he made the first turn of the final lap, Verzbicas flashed a small smile, but at that point, he was only concerned with winning the race. "I thought with around 600 to go that I'm not going to go for a time anymore," Verzbicas said. "I did not know until the last 50 meters. I was really hurting that last lap."
Continue reading at: sportsillustrated.com