Verzbicas Breaks 4 Minute Mile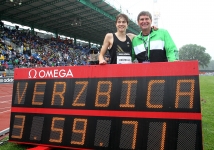 June 11, 2011
"Until the race started, I thought this was going to be effortless and I was going to do it, but once the race got started, it was actually harder than I thought."
By Bill Carey, Sports Illustrated
NEW YORK -- Lukas Verzbicas sat alone at a table checking his phone, still smiling 30 minutes after he closed out what might be the best high school distance running career ever with a 3:59.71 Mile at the adidas Jim Ryun High School Dream Mile at Icahn Stadium in New York City.
The 18-year-old recent graduate of Carl Sandburg High School in Orland Park, Ill., was already in rarefied air before he became just the fifth U.S. high school runner to ever break 4 minutes on Saturday. He won five national championships between December and March, and last weekend, he shattered the national high school outdoor 2-Mile record by five seconds when he ran 8:29.46 at the Prefontaine Classic in Eugene, Ore. But even for Verzbicas, the sub-4 showing was "unreal."
Continue reading at: sportsillustrated.com