Warrior Run's "Mile of Mayhem" tests mettle of youths, adults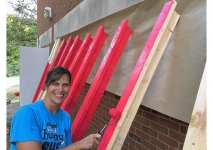 September 20, 2016
"With those goals in mind, we were privileged to partner with Fleet Feet Sports and created a Mile course that would offer more than just running. We wanted kids to be excited, intrigued and challenged as they worked their way around the course."
By Pamela Willis, Worthington News
Weekend warriors rejoice -- the seventh annual Worthington Wellness Warrior Run at Granby Elementary School features a "Mile of Mayhem" for serious thrill seekers, but also a "Lil' Warrior" race for children.
Granby teacher Tyler Hollinger and physical education teacher Rick Armstrong are urging residents to "Bring out the warrior inside!" for the event scheduled 12:30 to 3:30 p.m. Sunday, Sept. 18, at Granby, 1490 Hard Road.
Registration is free, although donations will be accepted on race day to help fund next year's event.
The course requires climbing over obstacles and barriers, ducking through tunnels and crawling through the mud.
"Everybody says their favorite part of the event is the mud," Hollinger said.
Continue reading at: www.thisweeknews.com